Spectators enjoyed different performance styles of five rock bands, members of Saigon Rock Club, The Da Vang (The Oriental Skin), The Rock Alpha, The Microwave, The Atmosphere, The Wishband and a well-known guest band from Ha Noi, The Buc Tuong (The Wall).
Substitute to Hip Hop?


The Da Vang, photo: NLD
Hip Hop, which was hot in the past few years, seems to be fading, giving way to rock. With rock coming back to life in the world, it is predicted that Viet Nam will witness a strong revival of rock in 2006.

Singer My Tam welcome the year with the hit rock album Duong Nhu Ta Da (It looks as if we were), followed by many others like Luu Huong Giang, Thai Thuy Linh, Minh Thu, Kasim Hoang Vu. Phuong Thanh, with much experience in rock, is nurturing some rock albums and live show in this year.

In fact, rock ballads currently performed by those singers are a mixture of rock and pop, accompanied by an overenthusiastic and energetic performance style. Anyway, those rock mania singers brought a new breath to the local music life, drawing the youth's attention to rock, a fantastic music genre.

The return of Saigonese Rockers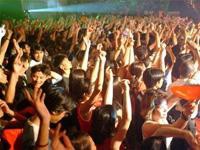 Spectators enjoy the show Saigon Rock Night on March,11, 2006. (Photo: TT)
The return of rock comes from the aspiration of true Saigonese rockers. In the 1990s, many Pop Rock Festivals were organized in Ho Chi Minh City. Sadly, rock faded away.

Rock lovers could only enjoy their favorite music in some small coffee shops, performed by enthusiastic rockers. The Rock Fan Club (RFC) in Ho Chi Minh City should be credit for their invaluable efforts of keeping rock alive.

However, rock fans were overjoyed with the first Rock Club being established in March, 2006, with the sponsor of the Ho Chi Minh City Pop Music Center.

"The club will gather fervent rock bands fans. The club will host rock seminars and performances as well as produce rock albums for the bands", saidis Duy Hai, Club Chairman and leader of the Rock Alpha.

Own ballads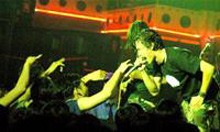 (Photo: TT)
With its unique and strong language, rock is not easily accepted by listeners, which is why it has not been so popular in Viet Nam as other music genres.

However, some rock ballads are appreciated, including "Tam Guong Ky Dieu" ("The Magic Mirror"), "S.O.S", "Bach Dang Giang" ("Bach Dang River"), "Vong Tay Ban Be" ("The Friendly Loving Arms") written by Nguyen Dat of the Da Vang band; or "Uoc Mo" ("The Dream"), "Chien Tranh" ("The War") by the Microwave; "Mat Xich" ("The Link"), "Ky Sinh" ("Parasite") by the Atmosphere; "Duong Dua Cuoc Doi" ("The Rat Race"), "Doi Chan" ("The Legs") by the Wishband, "Hay Vui Len Nao" ("Be Cheerful") by the Rock Alpha… They gradually won the music lovers' herats.

Musican Vy Nhat Tao, manager of Ho Chi Minh City Pop Music Center, said: "Vietnamese rock is shaping its unique and typical identities". He went on explaining that rockers have created an image of eccentrics with long hair and unusual clothes, and people are not sympathetic toward them.
Worse than that, their unfriendly image is also associated with rock. On the contrary, most rockers are friendly and good-natured.

Musician Vu Van Tuyen added: "The rock bands' weakness is their voice and performance style. Their have not developed a style of their own, mostly imitating foreign band".

The previous Saigonese rock bands primarily covered foreign ballads, limiting the development of rock in the city although it was the first place nationwide to welcome rock. It is difficult to find a rock band with the authentic Vietnamese style.

"Saigon Rock Night"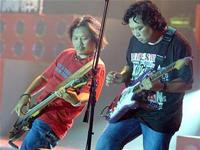 Duy Hai (Black) of the Rock Alpha in "Saigon Rock Night", (Photo: TT)
All kinds of rock, from heavy, progressive, thrashmetal, numetal to alternative rock were performed in the live show "Saigon Rock Night".

One thing special about the show is that all ballads were composed by the bands themselves with only a few classic ones covered, liked "Nguoi Ve Tu Long Dat" ("Those Returning from Underground") by Quoc Dung, "Cat Bong" ("Scalding Sand") by Dan Linh. Surely enough, with rock, no lip-sync is possible.

It should be known that rock enthusiasts Duy Hai and Vy Nhat Tao were brave enough to host the show with their own money, without any sponsors as it is often seen with other music shows.

Duy Hai said hopefully, "We know that rock is still loved. There should be a pioneer to revive it. I expect a large audiences, strong enough for Saigon Rock to be performed quarterly or even monthly, giving rock its must be position. Rock bands and fans will have a professional playing field to meet".

In addition, other rock projects are being planned by Saigon Rock Club. Among them, the most notable are the periodical performance at Ben Thanh Theater, with the first on March 28, 2006, attended by six rock band members, the tour around student dormitories and also the intended overseas performances.
Related Articles:
Rock in Sai Gon is Anxious For A New Look
Related Links:
Viet Nam Rock Fan Club