Corsican photographer Regis Arrighi has opened an exhibit titled "Sai Gon's Smile" featuring 42 black and white pictures of daily activities in Ho Chi Minh City. The photographs will be on display at the HCMC Photography Association from now until September 25.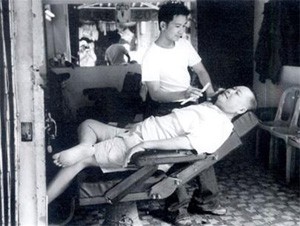 A photo by Regis Arrighi is on the display.
The exhibit features photographs of common people smiling.  The artist captured people in moments of joy, regardless of the hardships of their daily activities.  The subjects range from ice cream vendors and barbers to elderly people on the street.
The display was inspired by a 21 day trip through Sai Gon (HCMC), Vung Tau City in Ba Ria-Vung Tau Province, and the Mekong Delta's city of Can Tho.
This was Arrighi's fourth visit to Viet Nam. "People from my homeland on Corse Island are very good to their friends, but they look cold and reserved. The Vietnamese people are so friendly. I am especially interested in the warm-hearted smiles which capture the broad-minded spirit of the Saigonese," he said.
Regis Arrighi, 51, has several exhibits currently on display including one of Romania displayed in France's Ajaccio, the Tzigane people available on Corse Island, and the daily activities in HCMC, Vung Tau, and Can Tho on display in Viet Nam.