Most of theaters invested much time and energy to every play to satisfy audiences. Nowadays, drama is a indispensable food for the mind of Saigonese.
And in the days of the Lunar New Year, most theaters haven't got any seats! Nearly all audiences have to buy tickets before.

Idecaf Theater
Photo: Kim Khanh
This year Idecaf presents four new plays, "Khalip", "Who Am I?", "Three Men of Loi's Family" and "The Wine Bottle of Heaven and Earth".

Besides habitual dramatic actors and actresses of Idecaf, such as Huu Chau, Thanh Thuy, Trung Dan, Minh Nhi, Meritorious Artist Thanh Hoi, Ngoc Trinh, Minh Tri, Hoang Trinh, Thanh Phuong… there are film actress Kim Khanh, Hong Anh, My Duyen, film actor Chi Bao, singer Minh Thuan, model Xuan Lan… They are expected to bring a new look to audiences.

It is a pity that famous dramatic actor Thanh Loc of Idecaf is missing. Because he has spine trauma.
Idecaf has three performing-hours, on 15.00, 17.30 and 20.15.

Small Stage 5B Theater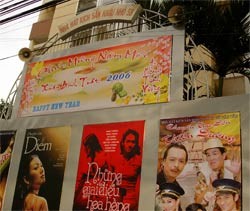 Photo: Kim Khanh
The theater has also four new plays, "The Flying Physician", "She Married", "A Train To Heaven" and "A Live Show Similar To A Famous People", with well known dramatic actors such as Thanh Hoang, Tan Thi, Nhat Cuong, and actresses Meritorious Artist Tu Le, My Uyen, Kim Ngan… film actor Trung Dung, models Huy Khanh, Tong Bach Thuy, film actress Kim Chi…

These plays are expected to bring cheerful and philosophical laughter to audiences.
The theater has two performing-hours, on 18.00 and 20.15.



Saigon Theater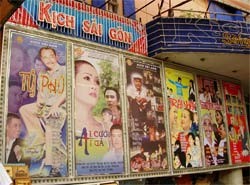 Photo: Kim Khanh
The theater presented two comedies, "US$1 Million" and "A Valuable Son-In-Law". But these are considered two excellent plays of Saigon Theater. They are directed carefully, with famous comedians such as Viet Anh, Hoai Linh, Tan Beo, Ngoc Giau, Huu Nghia, and Phuong Dung…

Besides new plays, previous plays still continue performing, such as "Dancing guys", "Love Castle", "Gold".  Most plays of Saigon Theater are comedies. They exploit social problems that young people are interested in deeply. It is a strong point of Saigon Theater.

The theater has four performing-hours from January 29, 2006 to February 2, 2006, on 15.00, 17.00, 19.00 and 21.00 PM. From February 3, 2006 and later, it has three performing-hours, on 17.00, 19.00 and 21.00.

Phu Nhuan Theater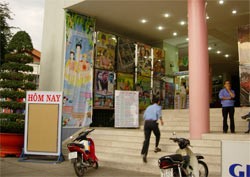 Photo: Kim Khanh
The theater has many new plays to present. It shows extraordinary working. All staff members of Phu Nhuan work under pressure.

There are six comedies, "Mr. Teo Return Home", "Four Happinesses", "A loveable Deceitfulness", "Angels Knock at the Door", "Puberty", comedy opera "Rent-wife".
A Cai Luong comedy play (a traditional kind of Vietnamese Folk Music Art) "Oyster, Arca, Snail and Mussel", this is a play which is expected to bring a strong impression to audiences.

 In addition, there are three plays for children "Mountain Genie and Water Genie", "Rescue the Flock of Chicken" and "A little princess in the bamboo cylinder".

The theater invests much time and money in stage design and clothing. Young artists and creativity are Phu Nhuan's strong points.
The theater has three performing-hours, on 16.00, 18.30 and 20.45. Plays for children perform on 9.00 AM.

Ben Thanh Theater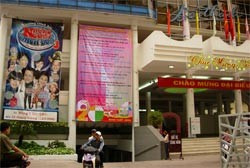 Photo: Kim Khanh
 "Fun People" program of the artist couple Thanh Bach-Xuan Huong performs at this theater.
It consists of small satirical plays, put neatly in 60 minutes. It targets at "hot" problems in society.

This is a favourite program which was already performed from last Christmas 2005. Now it still attracts audiences. It will be performed from January 29, 2006 to February 12, 2006, on 20.00.