The Saint Giong Festival has been officially recognized as an Intangible Cultural Heritage of Humanity by UNESCO on November 16.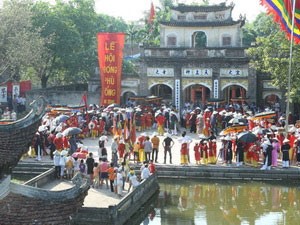 Saint Giong Festival (Photo: Vietnam News Agency)
The decision was made at the 5th session of the UNESCO Intergovernmental Committee for the Safeguarding of Intangible Cultural Heritage took place at the Kenyatta International Conference Centre in Nairobi, Kenya.

The new addition pushed Vietnam's world heritage sites to 3, including 82 stone doctoral steles from the Le-Mac dynasties (1442-1779) at Hanoi's Van Mieu-Quoc Tu Giam (Temple of Literature) recognized as the World Documentary Heritage and Thang Long Royal Citadel recognized as a world cultural heritage.

Saint Giong Festival is a traditional event held annually from the 6 th day to the 12 th day of the fourth
lunar month several places within Hanoi, especially at the Soc Temple in Soc Son District and at Phu Dong village in Gia Lam District, Hanoi.

The 9th of the fourth lunar month is the major day of the event at Phu Dong where the national hero, called Emperor Phu Dong was born.

According to legend, the national hero was a son of a woman in Giong Village. She was pregnant after stepping onto a giant footprint in the field. The kid, called Giong, was weak and couldn't walk and talk. When the sixth Hung King called on all people to resists the Chinese invaders, the three-year-old child suddenly stood up and wanted to be fed. The villagers provided him food during three days. Giong then straight and grew into a giant. He rode an iron horse given by the King and defeated Chinese invaders aroun. After the victory, he rode his iron horse on to the Soc Mountain and flew up into the sky.

People called him Saint Giong and organized festival to commemorate and show their gratitude to the hero.