'Sao Mai Diem Hen' (Music Star Rendezvous), a music contest, has attracted nearly 100 Vietnamese contestants who are living as far off as France, Germany, Belgium, Poland and Russia, according to the organizer.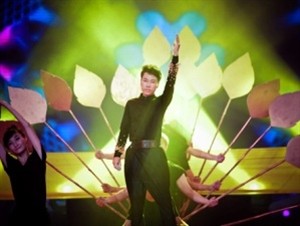 Nguyen Dinh Thanh Tam, winner of Sao Mai Diem Hen Music Contest 2012 (Photo: VNA)
Seven of the selected candidates will come back home to take part in the final round together with 27 contestants who were chosen from cities and provinces across the country.
The final round of 'Sao Mai Diem Hen Music Contest 2013' will take place in the northern city of Hai Phong from August 1-31 and broadcast live on VTV1 channel.
The Sao Mai Diem Hen Music Contest was first organized by Vietnam Television in 2004 and became a great success, providing an opportunity for young talented singers on a national platform.