The 4th annual "Bourbon Street Jazz & Blues Festival" raising money for disabled children's "Gift of Mobility" fund was held at the Cargo Event Space in Ho Chi Minh City's District 4 on May 28.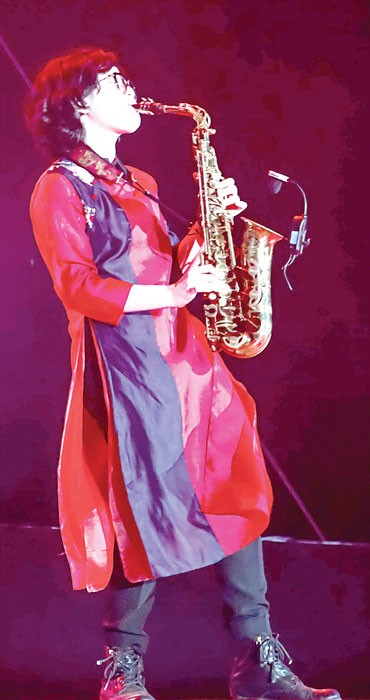 Young saxophonist An Tran who is daughter of saxophonist Tran Manh Tuan
The concert was organized by the Kids First Enterprise and directed by saxophonist Tran Manh Tuan.

International artists, including The British International School Big Band, the Jazz Sextet, the PALM (Pêche à la Mouche), the Tastes Like Chicken, the Nola Blues Club, Marvin Kociszewsky , singer Mai Khoi, young saxophonist An Tran who is daughter of saxophonist Tran Manh Tuan, performed in the show.

Tran Manh Tuan is one of the most prominent jazz saxophonists in Vietnam. He has taught at the Ho Chi Minh City Conservatory. He is also a composer, arranger and producer.

Tuan began playing the saxophone in 1979 and is a graduate of the Berklee College of Music. He has released five solo CDs and has performed and recorded with several Vietnamese pop singers. He is also known for his interpretations of the songs of Trinh Cong Son.

The saxophonist has perform with a number of well known musicians such as Herbie Hancock, Wayne Shorter, Derek Nash, Lillian Boutte, Charlie Bisharat, Dave Grusin, Don Grusin, Hans Dulfer, Fulvio Albano, Rob Mullins, Mike Del Frerro, John Ferguson, Stephan Eicher, Co Co York, Jennifer Ryan, Mezcal Jazz Unit, Dana Leong, Denis Mininfield.

The famous artists introduced his jazz band, Saigon Big Band in 2012. The band consists of 22 artists, including veteran jazz artists of Saigon in the past 30 years and young artists who won domestic and international awards in recent years.