More than a hundred oil and lacquer paintings, bronze sculptures and wood carvings depicting life and the scenery around the coal mines in Viet Nam's far north are on display at the Exhibition House of Quang Ninh Province from today.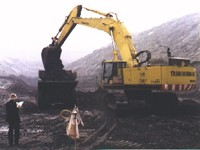 A coal mine in Quang Ninh Province.
There are also snaps of the oft-photographed Ha Long Bay.
The pictures and other works of art on show are a vivid testament to the growing maturity of the region's artists and the strength of the local cultural movements that really got going a few years back.
The exhibition's organizers are the Vietnam Museum of Fine Arts, the Quang Ninh Department of Culture and Information, and the Quang Ninh Association of Literature and Art.