The open-access online journal Vietnamese Public Library of Knowledge (ViPLOK), the first of its kind, will be introduced to the public by Vietnamese famous scientists in the world in December.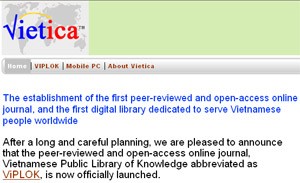 The interface of ViPLOK
ViPLOK provides an internationally recognized, open-access platform for all Vietnamese students and scholars to publish their high-quality intellectual works.

ViPLOK will cover all fields of research ranging from natural/physical/social sciences, mathematics, engineering/technology, health sciences, history, law, to arts.

Each published article will be professionally edited and can be written in either Vietnamese or English language or both.

ViPLOK journal will be published in print and online newspaper on the website: www.viplok.org and useful for Vietnamese scholars and students as reference material.

All articles will be submitted through internet and the editorial board will give feedback within 45 days.

Dat H. Nguyen, Ph.D., lecturer on genetics at Harvard University, one of members of the editorial board, and his co-workers undertake the journal.

The editorial board expects to publish the first issue of the ViPLOK journals in December 2006.
The managing editorial board consists these following scientists:

Anh-Tuyet Tran, Ph.D.
University of California, Biophysics

Dat H. Nguyen, Ph.D.
Harvard University, Theoretical and Computational Physics/Chemistry/Biology & Computer Science

Hieu X. Cao, Ph.D. Candidate
Ernst-Moritz-Arndt-University (Germany), Microbiology

Khanh Huynh, Ph.D.
Harvard Medical School, Genetics and Molecular Biology

Minh Q. Ha, Ph.D.
University of Chicago, Computer Science

Ryan T. Phan, Ph.D.
Harvard Medical School, Cancer Biology and Immunology

Thoa T. Trinh, Pharm.D.
Massachusetts College of Pharmacy and Health Sciences, Health Sciences

Triet M. Le, Ph.D.
Yale University, Mathematics

Vu Pham, Ph.D.
University of California, History

Xuehe Zheng, Ph.D.
University of California, Theoretical Physics/Chemistry