Researchers have found traces of a cemetery dating back 3,000 years at a cave in a karst mountain in Thanh Tuong Commune, Na Hang District of the northern province of Tuyen Quang.
Ceramic pieces found at Na Tham Cave. Photo courtesy of Trinh Nang Chung
Scientists from the Vietnam Archeology Institute and Tuyen Quang Museum have dug examination holes in Na Tham Cave. They found a single culture layer 40cm thick at a depth of 30cm from the surface of the cave. Dozens of ancient objects were found, including ceramic wares and pieces of human bones and teeth.
The broken ceramic pieces are thought to belong to different wares with lots of decorative patterns of small circles, which were popular in ceramic wares of the Go Mun period during the Metal Age.
Some of the ceramic pieces have black traces of being burnt, while some human teeth and bones were found inside ceremic containers.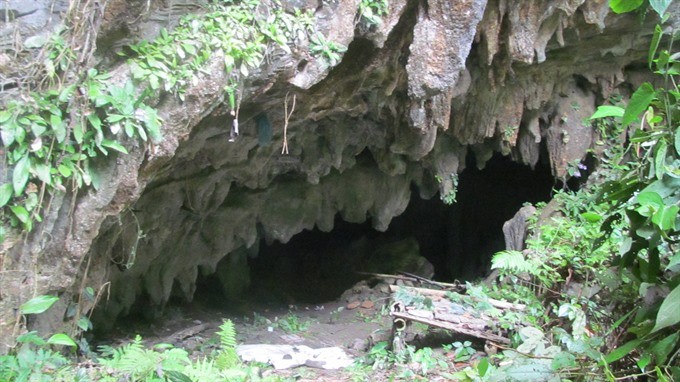 Na Tham Cave. Photo courtesy of Trinh Nang Chung
Na Tham is a large cave with a streamline passing the cave's mouth, which faces southwest. The cave measures around 150sq.m, with most of the area lit with natural sunlight.
"Based on the condition of the culture layer and early objects found at the trial holes, we can say that the cave was a cemetery of people who lived here 3,000 years ago," said Prof Trinh Nang Chung, head of the research group, "Ancient people burried the dead in ceramic jars and marked the tombs with stones."
Chung confirmed the site is the first of its kind found in Tuyen Quang Province.
Relevant agencies are planning excavations and further research at the site.