The Vietnam Supermodel contest is returning for more excitement and surprises in the search of the most outstanding Vietnamese models. The contest will start on May 22, with the final on June 28.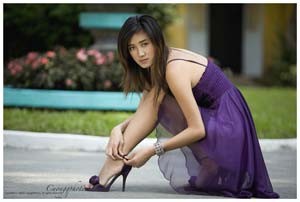 Tram Anh, one of the contestants for 2009 Vietnam Supermodel (Photo: Courtesy of Cat Tien Sa)
Eligible candidates are 18-25 year old Vietnamese, who have graduated form high school.  
Male contestants should be at least 1.75 meters tall and women 1.65 meters.  
All applicants are required to be single, have no tattoos and have not had any cosmetic surgery.  
The qualification round will be simultaneously held on May 22 at: the HCMC College of Cinema and Stage (125 Cong Quynh Street, District 3, HCMC) and 12 Ho Xuan Huong Street, Hanoi. 
Contestants will participate in events like walking on the catwalk and a Q&A session. Their height will also be measured. 
The semi-final and final will, respectively, take place on May 24 and June 28. The selected venues are yet announced.  
The winners will receive the title "Golden Supermodel," winning VND50 million (US$2,850) each. The runner-ups will receive the title "Silver Supermodel" and VND35 million ($2,000), while the third place will be awarded the "Bronze Supermodel" and VND20 million ($1,140).  
The sixth Vietnam Supermodel contest is organized by Ho Chi Minh City TV, Thoi Trang Tre magazine and Nguoi Mau magazine, sponsored by CT Group.  
The Vietnam Supermodel has been held annually since 2002 to find promising new models for the local catwalk industry.