A seminar on the life and achievements of King Tran Nhan Tong, who unified many Zen Buddhism schools in the 13th century, was organized yesterday.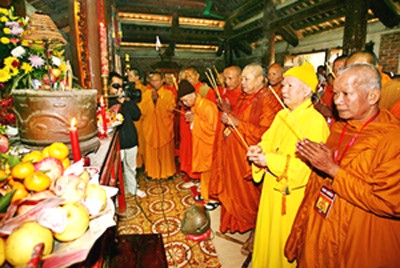 Monks burn incense at An Sinh temple which worships Kings of the Tran dynasty in Dong Trieu district of Quang Ninh province. (Photo: Minh Dien)
At Uong Bi town in the northeastern province of Quang Ninh, delegates eulogized Tran Nhan Tong for his genius which enabled him to take the Dai Viet civilization to its zenith.
Dai Viet was Vietnam's official name under the Tran dynasty (1225 - 1400).
Some said even after becoming a monk, Tran Nhan Tong thought about his country and people.
His skillful handling enabled him to unify the many Zen schools into the Truc Lam school of Zen, they said.
The king is not only been venerated by Buddhists but also honored by all Vietnamese throughout history.
General Vo Nguyen Giap wrote in a letter he sent to the seminar: "Tran Nhan Tong was the only king in Vietnam to give up the throne and become a monk. He created a new Zen Buddhist school. Tran Nhan Tong was a both a scholar and warrior who rendered great service to the country."
Monk Thich Thien Nhon said: "The Truc Lam Yen Tu school of Zen created a solidarity and oneness of mind among Vietnamese Buddhist at that time."
Thich Minh Thinh, a monk from Ha Noi, said, "Truc Lam Buddhism's spirit is the spirit of Dai Viet and the spine of Dai Viet's culture at that time."
Buddhism was one of important pillars of Dai Viet society during the Tran Dynasty era. It played an important role in the process of building and protecting the country, Dr. Nguyen Phuong Chi from the Institute of History said.
"The Truc Lam school of Zen has an enduring vitality in people's minds and strongly impacts Vietnamese society because its moral creed always calls on people to do charity, love other people, and respect the country's laws."
Tran Nhan Tong (1258-1308), the third emperor of the Tran dynasty, ascended to the throne when he was just 21. He achieved lasting fame for defeating Mongol invaders.

He abdicated his throne when just 35 and spent the rest of his life practicing and propagating Buddhism, in the process founding the Truc Lam School of Zen (the Bamboo Forest School).