Mr. Hua Tu Hoai, a Nung ethnic minority talented sculptor, is pushing for more efforts to finish a series of Statues of Uncle Ho that he named "Uncle Ho in Dinh Hoa Safe Haven" to celebrate Uncle Ho's birthday.
The series consists of 12 statues divided into two collections, depicting Uncle Ho's image in the revolutionary base.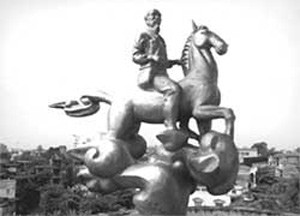 "Uncle Ho at Ease on Horseback"
 
The first collection themed "Uncle Ho Sits at Ease on Horseback" has 5 uninterrupted statues which depict Uncle Ho's image on a mission trip. He says: "The image of Uncle Ho on horseback is the most beautiful. Poet To Huu successfully described it in his poetry, and now I will describe it by sculpture."

The statues have different styles; each of them shows the profound philosophy and the author's love for the old father of the nation. He hopes that when the works are finished, they will be displayed in Uncle Ho Memorial House in Phu Dinh, Dinh Hoa.

Mr. Hua Tu Hoai is one of the three Vietnamese sculptors who received the State Award in the first stage. He has many works that won awards in national exhibitions and have been on display at domestic and international museums and memorial houses.

Most of his works realistically describe both the national glory and losses and are most outstanding in the theme of war. This is also the strong point in his creative skills and thought.

"The Nightmare" which was awarded the first prize by Viet Nam Fine Art Association in 1996 is one of his favorite works. And "Uncle Ho Back to Mountain Village" won the golden medal in the national fine art exhibition in 1990.