The gala concert "Nghia tinh Truong Son" (Sentimental Attachment for Truong Son Road) is the opening event of a program to raise funds for veteran soldiers. Launched by Sai Gon Giai Phong newspaper, it hopes to revive the heroic spirit of Vietnamese soldiers at Hoa Binh Theatre on September 15.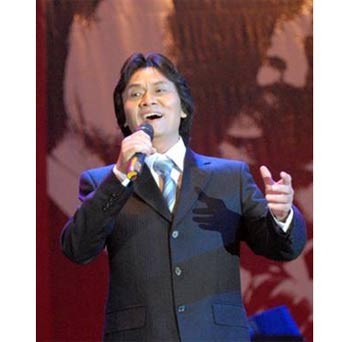 "Meritorious Artiste" Quang Ly will raise his voice at Tuesday's gala concert at Hoa Binh Theatre
Many immortal songs like Dat nuoc (Nation), Mau hoa do (the Color of Red Flower), Bai ca Truong Son (Truong Son Mountain's Song), Truong Son Dong – Truong Son Tay (West and East of Truong Son Mountain) and Me (Mama), will be performed by the city's most famous singers and bands.
Confirmed acts include "Meritorious Artiste" Quang Ly, Dam Vinh Hung, Phuong Thanh, Cao Minh, Thanh Thuy, Cao Thai Son, Huong Giang, Dong Quan and the three bands of Ao Linh, VCB and Giai Dieu Xanh.
All donations are welcomed via three hotlines: (848) 3834 1008 , (848) 3834 0019, and (848) 2211 1263.
For those who want to send their donation directly to the newspaper, they can visit SGGP's main office: 432-438 Nguyen Thi Minh Khai Street, District 3, Ho Chi Minh City, or pay directly into the fund's bank account: 0071005154702, Vietcombank – Ho Chi Minh Branch.
The concert will be broadcast live on two channels, Vietnam TV and Binh Duong Province TV and later reported on Ho Chi Minh City TV.
Before the idea to carry out the program was thought up, SGGP had sent a group of its reporters on a fact-finding trip along the 5,000 kilometers of Truong Son road (also known as the Ho Chi Minh trail).
The information collected from the trip was reported in the newspaper' series "Tro lai Truong Son huyen thoai" (Return to the legendary Truong Son Road).
From what the reporters saw and felt from the legendary sites and real lives of the people along Truong Son road, SGGP decided to launch the fund to call for donations to help veteran soldiers who contributed much to Truong Son road but now live in poor conditions.
The program quickly received a lot of compliments and support from the public, not only the newspapers' readers but also Government departments and local businesses.
In a recent letter sent to SGGP, President Nguyen Minh Triet said the series was an emotional action for veteran soldiers. "Via the program, the citizens will have opportunities to express their own gratitude to heroic martyrs on Truong Son road who devoted their lives to the country's peace"
Related article:
Charity fund for Truong Son road launched