As the year draws to an end, Sai Gon Giai Phong Newspaper has compiled a list of the top ten most significant cultural events of 2011.
1. Writer Nguyen Thi, poet Le Anh Xuan and musician Hoang Viet were conferred title of 'Hero of People's Armed Forces' for their outstanding contribution and sacrifice in the struggle for national liberation in the anti-American war in the southern region.
2. UNESCO recognized Ho Dynasty Citadel in the central province of Thanh Hoa as a World Cultural Heritage Site in an official announcement at the 35th Session of the World Heritage Committee in Paris on June 27. Additionally, Vietnam's Xoan singing entered the world list of Intangible Cultural Heritage in need of Urgent Protection, in November.
                                           Xoan singing
3. Criteria for awarding prestigious titles such as Ho Chi Minh Award for Literature and Arts, People's Artist Award and the Meritorious Artist Award stirred a controversy in July and August. As a result, the awards ceremony for the prestigious titles organized every five years could not be held in 2011.
4. Ha Long Bay in the northern province of Quang Ninh was named one of the world's new seven wonders of nature in November.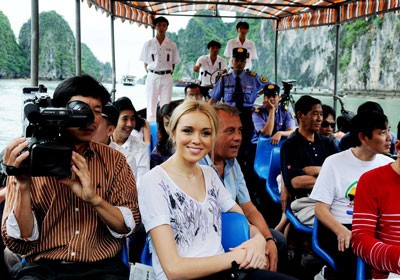 Miss World 2008, Ksenia Sukhinova from Russia visits Ha Long Bay.
5. 2011 belonged to writer Nguyen Nhat Anh who is popular for his children's books. His work titled Toi thay hoa vang tren co xanh (I see yellow flowers on the green grass) hit bookstores during its first week of publication and a further 5,000 copies had to be reprinted.
Cho toi xin mot ve di tuoi tho (Give me a ticket to childhood) is the first Vietnamese children's book that has been published in Thailand. American and Korean publishing houses have bought the copyrights to publish the book in coming time.
The novel Co gai den tu hom qua (The girl from yesterday) published in 1995 by Youth Publishing House, has just been selected as a course book at Moscow University, Russia. His latest work La nam trong la (Leaf lies in leaf) was reprinted three times within 45 days of publication.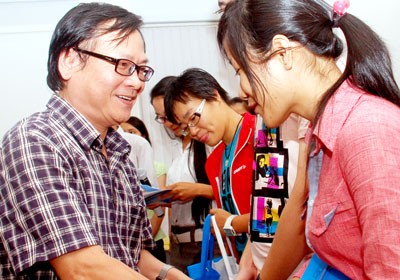 Writer Nguyen Nhat Anh (L)
6. Circus artists, brothers Giang Quoc Co and Giang Quoc Nghiep of the HCMC Circus Troupe were granted "Outstanding Young Citizens 2011" titles. Their performance, "Power of the Arm' won the Silver Lion award on October 31 at the 13th Int'l Circus Festival in Hebei Province in China. The performance also won three prizes at the 13th International Circus Festival in Italy from October 13-17, which included a silver medal and two minor titles awarded by the world's leading circus groups, Monte Carlo Circus and Cirque du Soleil. "Power of the Arm" performance got the first prize at the Vietnam-Laos-Cambodia young circus talent competition in 2009 and a gold medal at the Hanoi International Circus Festival in 2010.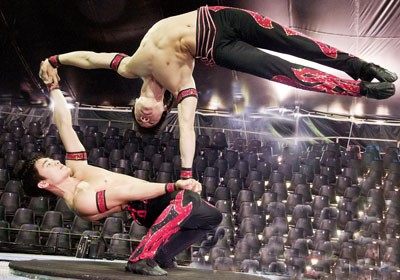 "Power of the Arm' performance by circus artists, brothers Giang Quoc Co and Giang Quoc Nghiep of the HCMC Circus Troupe.
7. The general public was shocked to see nude photos of female and male models Ngoc Quyen and Tien Doan, sexual music video clips of singer Hoang Le Vy, and singer Minh Hang in a sexy jumpsuit, besides other distasteful pictures and actions of various celebrities which generated much public controversy.
8. Miss Ethnic Vietnamese pageant was a unique national beauty contest in 2011. 138 contestants from 42 ethnic groups, out of a total 1,000 participants, entered the semifinal round at the 2nd Miss Ethnic Vietnamese pageant in Hanoi and Ho Chi Minh City from November 1 to 15. The beauty contest aimed to honor the traditional values, beauty, talent and intelligence of women from ethnic minority groups as well as strengthen solidarity amongst the various ethnic communities.

9 Lai Van Sinh, head of the Central Cinema Department  and his deputy Le Ngoc Minh, were forced to resign following protests from movie bigwigs that a huge sum of VND34 billion (US$1.5 million) had been embezzled by them from the department .
10. Sat thu dau mung mu (Hitman with wounded, swollen head), a funny picture book published last month by Nha Nam Books and illustrated by artist Thanh Phong using colloquial slang caused a stir around the country. The illustrated book has been withdrawn from bookstores due to its racy content and possibly offensive language.
Then, O lung chung nhin xuong dam dong (Looking at the crowd below) a short story collection by writer Nguyen Vinh Nguyen was also pulled off shelves for its bawdy contents. The book was published in April by Phuong Nam Books and the Writers' Association Publishing House. The controversy concerning this book is still ongoing.