As many as 2,000 dolls and 200 gifts, including Hanson crayons and Nutifood milk, were given to disadvantaged good pupils in the southern province of Kien Giang on May 30. The activity follows the "Doll's House" program, organized by the Sai Gon Giai Phong (SGGP) Newspaper.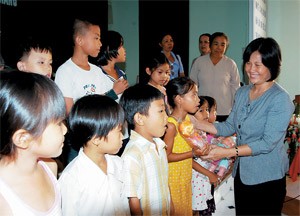 Ms. Tran Thanh Binh, Vice Chairwoman of the People's Committee of Kien Giang Province, gives dolls to children in Rach Gia City.
In the exciting summer atmosphere, 30 poor children of Rach Gia City were awaiting to receive dolls from the SGGP Newspaper's staff at the Provincial Committee for Population, Family and Children.
Fifth-grade Nguyen Van Duy, whose father is a bricklayer and mother is a housewife, said anxiously "We have never played games since we were young. We have to assist our mothers in doing housework after the class. We have never had a doll."
Duy is not the only one. Thousands of poor children living in the western paddy field area of southern Viet Nam have only had buffalos, rice fields and rowboats to play with all year round. They lack spiritual gifts so they were reserved and embarrassed when receiving the dolls.
Le Thi Ho, a poor pupil in Rach Gia City, was so embarrassed that she did not know how to turn off the music on her doll.
Facing the kind hearted deeds of HCMC's children, fifth-grade Tran Kien Nghia of Trung Vuong Primary School in Rach Gia City was too moved to speak comprehensibly, "Thank the SGGP newspaper's staff and friends in HCMC for bringing us this joy."
 
Ms. Tran Thanh Binh, Vice Chairwoman of the People's Committee of Kien Giang Province, said, "I was moved to tears when I handed the dolls over to the children. I wish the SGGP Newspaper will continue to organize more activities to help disadvantaged children."
On behalf of the SGGP Newspaper, Mr. Tran Van Tuan, Deputy Editor-in-chief, expressed feelings of the newspaper's readers, staff and reporters to children in the Mekong Delta. Mr. Tuan thought that taking care of children's spiritual lives is a shared responsibility of adults as well as the SGGP Newspaper.
In the future, the newspaper will continue to be a love bridge to bring further joy to disadvantaged children in rural areas.
Summer holidays are starting. For pupils in Kien Giang, these summer holidays are very meaningful. Nice little dolls will become an unforgettable childhood memory for them.
Related articles:
3,000 Dolls Sent to Disadvantaged Children in Can Tho City
"Doll's House" Program Expands to Other Provinces
More Than 1,000 Visitors Come to Doll Exhibition
Doll Exhibition Opens in Equatorial Hotel
Go Vap District Collected a Record Number of Over 8,000 Dolls
Set New National Record in Doll Collection 
"Doll's House", A Humane Program
Dong Nai Province Goes In Company with "Doll's House" Program
Education and Training Office of District 1 Collects Over 6,500 Dolls
Ho Chi Minh City Enterprises Donate VND225 Million
More Than 30,000 Dolls and Cuddly Toys Handed Over
Thousands of Dolls to be collected
"Doll's House" Program Receives Warm Responses
Hundreds More of Puppets Donated
"Doll's House", The Joy of Poor Children