The 2nd International Film Festival closed in Hanoi last night, November 29, after five days of vibrant and ebullient activities with the film 'Shackled' of the Philippines being awarded as the most excellent feature film.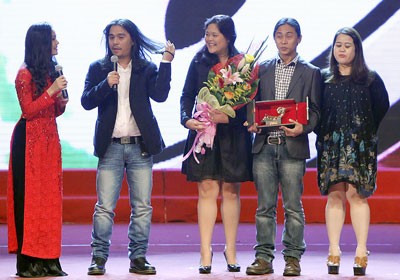 The 'Shackled' film cast from the Philippines held an exchange with the audience
Ilya Salman in 'Night of Silence' from Turkey and Ying Yaning in 'Song of the Silence' from China won the best actor and best actress titles.
Director Reis Celik of 'Night of Silence' and Iskandar Usmonov of 'The Telegram' were honored as best directors.
Best short film award went to Indonesia's 'Bermula Dari A'. Female director Mina Yonezawa for the Japanese film 'Solo' was awarded best director in the short film category.
The Netpac Award from the Network for Promotion of Asian Cinema was given to 'Night of Silence'.
Animated film Bo Vang (Yellow Bull) by Vietnamese director Tran Khanh Duyen and Thien Menh Anh Hung (Blood Letter) by director Victor Vu also received special jury awards.
Jan Schuette, head of the jury board, said that 'Blood Letter' is an excellent and professionally produced film.