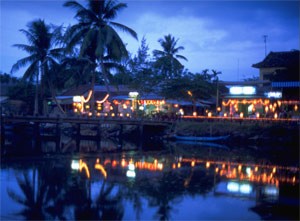 The ancient town of Hoi An shimmers on Friday night to welcome delegations participating SOM III
The ancient town of Hoi An in the central coastal city of Da Nang shimmered in the moonlight  and lanterns on Friday to welcome distinguished guests of the APEC's third  Senior Officials Meeting (SOM III) and related meetings.
The event goes hand in hand with many other cultural activities performed by Vietnamese artists and dancers.
Lantern shows, folk songs and other performances on the full moon night Friday satisfied the eyes of more than 300 foreign delegates and about 200 Vietnamese ones.
The event saw the attendance of former Vice State President Nguyen Thi Binh and other Vietnamese top officials.
Today, delegations participating SOM III will compete in a contest to show their talent.