Concerts featuring cai luong (southern folk opera) have been scheduled to take place at the end of March in Ho Chi Minh City.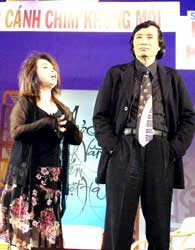 Meritorious artists Minh Vuong (R) and Bach Tuyet.
The concerts, which are to be called Nhung ngoi sao toa sang (Shining stars) and Ngoi sao cai luong va cong chung (Cai luong stars and devotees), will feature artists who were recently bestowed the "People's artist" and "Meritorious artist" awards including Thanh Tong, Minh Vuong, Thanh Tuan, Ngoc Dang, Giang Chau, Cam Tien, Phuong Loan, Thanh Nam, Tan Giao, Huu Quoc and Tuyet Ngan.
"Shining stars", directed by Hoa Ha and organized by the Tran Huu Trang Theater, will take place at the Hung Dao Theater on March 23. On stage will also be people's artists Phung Ha and Diep Lang, meritorious artists Bach Tuyet and Vu Linh, along with other young talented artists like Vu Luan, Tu Suong, Trinh Trinh, Le Tu and others.
"Cai luong stars and devotees", co-organized by the HCMC San khau (theater) Newspaper, the Arts Organizing and Performing Company of Ho Chi Minh City and the Hau Giang Province's Radio & Television, will take place at the municipal Opera House on March 28.