HCM City, once again, will warm up during the cool season of early fall with a fashion show, "Newurbanmale Night," September 11. The show is a fresh wind for the local fashion industry thanks to the exchange between Vietnam and Singapore.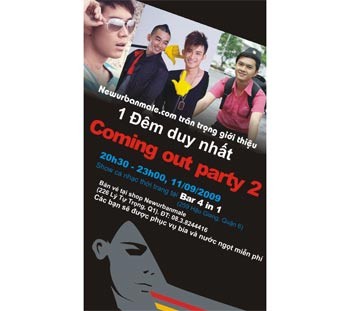 The poster for the fashion show, Newurbanmale night, which will take place on September 11 at 4IN1 Bar (Photo: Courtesy of Newurbanmale)
The show features five models from Singapore and ten models from Vietnam. The names of the models have not been revealed, as the organizers hope it will be a big surprise for visitors.
The Singapore models will bring new styles of presentation from the Singapore catwalk, while the Vietnamese models are challenged with reaching a higher professional level.
The Vietnamese models will also receive some help from Singaporean professional stylists.
Organizers said sharing and enjoying fashion ideas is the main aim of the show.
The three latest summer/autumn collections by Newurbanmale will be presented.
The show also features appearances by boyband La Thang, singers Khang Luan and Khanh Vy, actor Nam Cuong and actress Diem My.
Tickets are available at the Newurbanmale outlet in District 1 and cost VND200,000 (US$11).
The show starts at 8.30pm and held at 4IN1 Bar, District 6.