On September 24, singer Stevie Wonder, the UN goodwill ambassador, met Nguyen Phuong Anh, during the course of the General Assembly Summit organized by United Nations Children's Fund (UNICEF).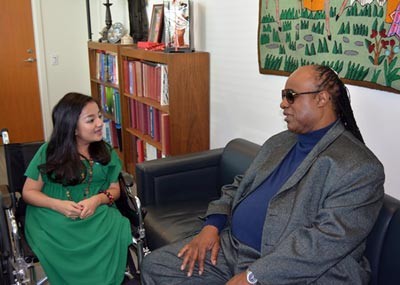 Singer Stevie Wonder (R) chats with Nguyen Phuong Anh(Photo:SGGP)
Nguyen Phuong Anh was born with osteogenesis imperfecta, or 'glass-bone disease', a genetic disorder causing fragile bones. "My bones have broken 30 times or more," she says.
Nguyen Phuong Anh received much media attention and was warmly met by audiences. Anh is known as a talented singer from the popular 'Vietnam Got Talent' show.
During the meeting, singer Stevie Wonder emphasized that distance between disabled people and the community has to be broken. He hoped that everyone would be involved in their integration because if more and more people carry out the message that will bridge the gap even faster.