Eighteen single mothers from Tan Minh commune, Soc Son district, Hanoi had the chance to share their happiness and sadness as well as desire for a brighter future at an exhibition opened in the Vietnam Women's Museum on March 7.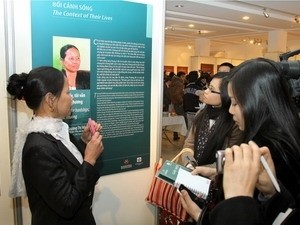 Truong Thi Minh, a single mum, is telling about her life.
Entitled, "Single mothers' stories", the event was the result of cooperation between the Vietnam Women's Museum and the Embassy of Finland, aiming to raise the economic and social status of a group of disadvantaged women.
Through 200 photos and objects, the exhibition tells true stories about the women who have to carry two burdens on their shoulders as they fulfill the functions of both mother and father, in spite of gender prejudices.
The exhibition also shows the change in the community's perceptions and actions regarding the issue of single mothers on the way to achieving the goal of gender equality.
The exhibition will take place at the Vietnamese Women's Museum, 36 Ly Thuong Kiet Street , Hanoi for five months and then move to Tan Minh for one month.