The sixth European Jazz Festival, organized by the Ministry of Culture and Information along with delegates from the European Committee of Viet Nam, will take place in Ha Noi and Ho Chi Minh City from November 28 to December 9, 2006.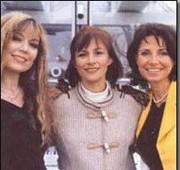 The Denmark's Swing Sisters
Among the many Vietnamese and European jazz artists performing at the festival will be Denmark's Swing Sisters, Sweden's Lina Nyberg Pling, and Viet Nam's own La Do (Red Leaf) from the Military University of Culture and Arts.
The performances will be held in the evenings at 8 o'clock at the Youth Theater of Ha Noi and at the Conservatory of Music in HCMC. For those jazz lovers interested in meeting the musicians in an informal setting, they will be available to answer questions at the Jazz Club and Summit Lounge in Ha Noi's Sofitel Hotel, and at Sax n' Art Club in HCMC.

Overcoming cultural and language barriers, the festival expects to attract a number of jazz lovers from Europe and Viet Nam to take part in this cultural exchange. Those who attend will be able to witness the jazz artists communicating in a language that, no matter where you are from, everyone will be able to understand, the language of music.
Admission is free. Tickets can be reserved and collected from 22 November 2006 at: the Performing Arts Agency, 16 Hoe Nhai, Ha Noi, telephone: 927 40 94 and the Ho Chi Minh City Conservatory of Music, 112 Nguyen Du, District 1, telephone: 8243774.