Thach Tu is a stalwart in the southern province of Tra Vinh, well known for not only restoring Buddhist idols but also for making pictures and paintings using leaves.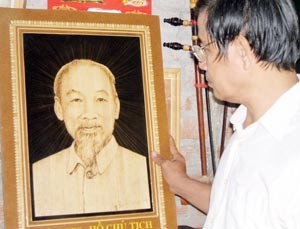 Thach Tu and his artwork: a portrait of President Ho Chi Minh made from thot not leaves
He is also famous for decorating Khmer pagodas.
The people of Tra Vinh, home to a large Khmer community, call him "preserver of the Khmer culture."
Located behind Hang pagoda in Chau Thanh District in Tra Vinh is Mr. Tu's Thien Y establishment, a small workshop that makes "big" pictures from leaves of thot not, bamboo, coconut and buong (a type of palm) and from grains like rice and sticky rice.
Last year he created a unique artwork, a portrait of President Ho Chi Minh from thot not leaves. It can be maintained in good condition for over 100 years, he said.
At the 2007 Fair and Exhibition of Rural Industrial Products, this work won a gold medal and was certified as one of "high quality Vietnamese goods."
He and his colleagues are now working on more than 30 such portraits and pictures of landscapes made of thot not leaves on orders placed by the Tra Vinh People's Committee and some customers in Ho Chi Minh City.
Mr. Tu's pictures are diverse, and include landscapes, portraits, and images of the countryside and Khmer pagodas.
Excellent restorer of Buddhist idols

Mr. Tu and his team have successfully restored hundreds of Buddhist idols in the delta.
His expertise first came into the spotlight 37 years ago when he raised a 10-ton Buddha idol by three meters to fit into the Hang pagoda. He later restored the idol. 
Since then, his fame has spread around the region where many pagodas have resorted to his help to treat idols in poor condition.
High-ranking bonze Thach Xuong at the Hang Pagoda said: "The Mekong Delta has a number of pagodas built more than a century ago, and most of them need to be restored. Since destroying idols is absolutely prohibited, we have to find someone who can repair old ones. And Thach Tu is the only artisan who is capable of doing it."    
Passing know-how to the younger   

Born into a poor family in Tra Vinh town, Tu was taught carving and painting by his father as a young man. Now, at 61 and with over 45 years' experience in the craft, he has created thousands of art products. Many of them have won prizes in national painting contests.
His son Thach Huynh Loc is also good at carving and painting. Mr. Tu says happily, "Today's youngsters learn faster than us.
"They will contribute to preserving and developing the national culture in the future."
Tu is now cooperating with the provincial Center for Industrial Promotion and Development Consultancy to set up courses in making pictures from leaves.
His ultimate goal is to pass on all his knowledge to younger generations so that they can maintain and develop the craft.     
Some local agencies are making plans to offer financial support to his Thien Y enterprise and help promote its unique art products among art lovers around the country.