The second 'Ngo' Boat Race Festival of the ethnic Khmer people in the Mekong Delta region will be held from November 23-25 in Soc Trang Province.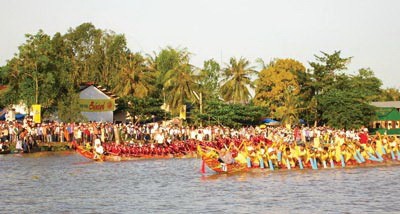 'Ngo' Boat Race Festival of Khmer people in Soc Trang Province
There are 45 teams from cities and provinces in the region that have registered to take part in the festival. This year's event will see an experiment of composite Ngo boat .

The festival will also include a wide range of activities such as parachute performance, electric radio controlled aircraft performance and more.

The event will be a chance to promote tourism in Soc Trang and introduce the culture of the province to visitors.

The annual 'Ngo' boat race is one of the highlights of the many traditional historical and cultural events of Khmer people.

'Ngo' boat (Ghe Ngo) is considered a sacred object of the ethnic Khmer people (Khmer people). The special boat is made of wood by artisans and Khmer Buddhist monks. The boat is decorated with images of dragons, tigers, elephants, lions and peacocks representing the power of the boat.

Ngo' boat race is also one of the activities to celebrate the Ok Om Bok Festival which is held on the fifteenth day of the tenth lunar month every year with plenty of entertainment, art performances, traditional sports and games, and releasing of buoyant paper lanterns into the air and on the river.

During festival, people pray for good luck, happiness, good weather and a bumper crop, and express their sorrow and worries and pray that their god will bestow favors on them and give them a better life.

The festival aims to preserve the cultural heritage of Khmer people as well as promote tourism potential of the province.