Soloist Bui Cong Duy and the stringed instrument orchestra of musician Nguyen Manh Duy Linh will present a concert at the HCMC Opera House at 8 pm on January 19.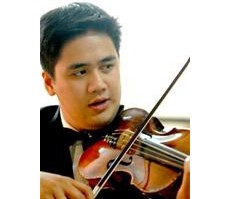 Violonist Bui Cong Duy
The young duo will present to music lovers the Concerto Grosso. Pianists and violinists include Ha Thanh Vinh, Bui Cam Ly, Nguyen Linh Uyen, Nguyen Thien Minh and Do Hoang Linh Chi from Hanoi.
They will also perform Part 1 of the Piano Concerto by Franz Joseph Haydn, Jules Massenet's Thais (Meditation), Edward Elgar's Salut d'amour and Wolfgang Amadeus Mozart's Piano Concerto in the event.

The HCMC Ballet and Symphony Orchestra will also join the concert under the baton of young conductors Nguyen Anh Son and Tran Nhat Minh.

Bui Cong Duy, 30, is today the leading violinist in the country. He is the first son of Pham Thuy Loan a cello teacher and Bui Cong Thanh, a violin instructor. They introduced their son to the violin at the age of five.

At nine years of age he won first prize in the Autumn National Music Competition. He then went on to study in Russia's Novosibirk State Glinka Conservatory. After graduating, he entered the Tchaikovsky Music Institute in Moscow from 1998 - 2003.

Duy won first prize in international violin contests organized in Novosibirsk and St. Petersburg in 1993 and 1995. He also won the Tchaikovsky International Music Competition for violinists under 18 in 1997.
He was later admitted to the Viruous Moskva Chamber Orchestra, becoming the first foreign member of the world-famous orchestra in its 24 year history.
The 20-member orchestra, which performs regularly throughout the world, includes such international alumni as Vladimir Sprvakov, Boris Garlitzky, and Arkady Futer.
The violinist has over the years given recitals in Russia, Poland, Switzerland, Italy and France.