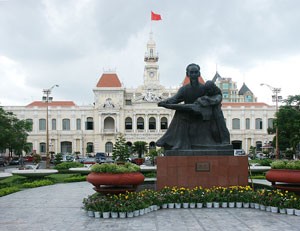 Ho Chi Minh City
On April 28, 2006, the organization board of Song Composition Contest "Singing about the Beloved City" held the first meeting at the Sai Gon Giai Phong (SGGP) Newspaper office to decide on the judgment panel and set the regulations, which will be announced on the SGGP Newspaper, page 3, the issue of April 30, 2006.
The meeting was attended by poet Duong Trong Dat, Editor-in-Chief of the SGGP Newspaper and head of the organization board, musician Prof. Ca Le Thuan, chairman of Ho Chi Minh City Music Association, Mr. Bach Quoc Chinh, Human Resources manager of Health Import-Export Joint-Stock Company II, representating the main sponsor, and other musicians.
Editor-in-Chief Duong Trong Dat said that the contest has a great significance in inspiring the potentials of professional and amateur composers to collect valuable works which reflect the image of a heroic city on the development road.
With the close cooperation of Vietnamese Musician Association, Ho Chi Minh City Music Association and sponsor, the song composition contest is expected to be successful, creating more high valuable spiritual products and contributing to enrich the collection of songs about Ho Chi Minh City.
A press conference of the Song Composition Contest "Singing about the beloved city" will be organized on May 4, 2006. And another meeting with the mass media and Ha Noi artists is set on May 9, 2006.