The song Ta hat ve Sai Gon (We sing a song about Sai Gon) by musician Trong Bang won the second place prize in the song composition contest titled Hat ve thanh pho yeu thuong (Singing about the beloved city) organized by the Sai Gon Giai Phong (SGGP) Newspaper to honor Ho Chi Minh City. No first prize was awarded.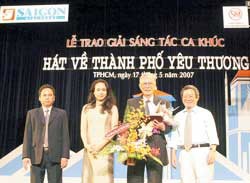 Musician Trong Bang received flowers from Mr. Duong Trong Dat, editor in chief of the SGGP Newspaper, (L)
The songs Sai Gon trong toi (Sai Gon in my heart) by The Hien, Thanh pho me (The mother city) by Lu Nhat Vu and Noi con tau ra bien (The place where the boat goes out to sea) Phan Long won the third prizes.
In the category of community songs, Hat ve thanh pho Bac vinh quang (Singing about the glorious city named Uncle Ho) by Nguyen Ton Nghiem and Tu hao thanh pho anh hung (Proud of heroic city) by Vu Thanh took home second place.
The third place community songs prizes went to Sai Gon bao nhieu pho (So many streets in Sai Gon) by Pham Dang Khuong and Tu hao la cong dan thanh pho anh hung (We are proud to be citizens of the heroic city) by Vu Dinh An.
Prizes were also awarded for the most impressive song, best lyrics and best folk song.
After launching in April 2006, the board of organizers received 185 entries from 150 participants nationwide. The contest aims to satisfy music lovers with songs praising the history, the people and beautiful places of the city.
Related articles:
Song Composition Contest "Singing about the Beloved City" Launched
Song Contest Praising Ho Chi Minh City to Start