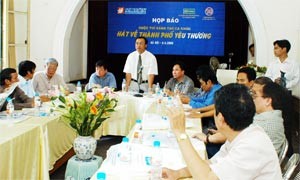 At the Press Conference
The song composition contest titled "Singing about the beloved city" is designed to honor Ho Chi Minh City, "A Heroic City".
The contest would satisfy music lovers with songs praising the history, the people and beautiful places of the city, said Mr. Hoang Van Khang, Deputy Editor-in-Chief of Sai Gon Giai Phong Newspaper.
The contest, held by Sai Gon Giai Phong Newspaper, will wholeheartedly welcome songs in form of solos, duets, trios and songs for choirs.
Eligible works are those which have never been released or which have never published on Sai Gon Giai Phong Newspaper since January, 2006.
Each composer could join the competition with only two songs for both styles, in the form of either handwriting or printing.
For those who would enter the final round, demo compact disks submitted to the examiners are compulsory.
The organization board has full authority to use, publish and announce the prized songs without permissions of the writers.
In form of songs for individuals and small group's performance, the prize purse of VND20 million will be awarded to the first prize. An amount of 15 million will be given to the runner-up. The third prize winner will be rewarded with a sum of VND10 million.
In the form of choral songs, the money prizes of VND10 million, VND7 million, VND5 million will be respectively awarded to the first, the second and the third prizes.
Some other prizes worth VND2 million each will be rewarded to writers of the most beautiful folk song, the most energetic songs, etc.
The deadline for application is January 15, 2007.
A press conference presenting an inspiration of songs acclaiming Ho Chi Minh City was held at the headquarter of the National Committee for the Union of Vietnam Literature and Arts Associations in Ha Noi on May 9, 2006.
The conference saw the attendance of Musician Do Hong Quan, Chairman of the Viet Nam Musicians' Association and nearly 50 people from the media.
Related Article: Song Composition Contest "Singing about the Beloved City" Launched