Sony Picture Entertainment has signed a deal with Viet Nam's Thien Ngan Film Company to release Nhung Co Gai Chan Dai (long-legged girls or top models) on DVD and VCD for distribution in much of Asia starting in November.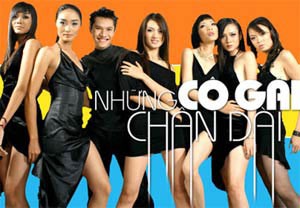 Poster of "Nhung Co Gai Chan Dai" 
Directed by Vu Ngoc Dang, the successful film produced in 2004 could also be screening on Asian television channels soon.

The targeted markets in the deal include Japan, South Korea, Hong Kong, China, Thailand, Taiwan, India, Malaysia, Nepal and the Philippines.

"This is a great opportunity to make Viet Nam and its people better known in the region," said Ms. Dinh Thanh Huong, production manager of Thien Ngan.

Nhung Co Gai Chan Dai tells of the meretricious world of modeling. Behind the glamorous façade, long-legged girls must strive to make a living and seek happiness. Sometimes they throw away any chance for real happiness to run after an illusion.
The film won a Silver Lotus at the 14th Vietnam Film Festival in Buon Me Thuot two years ago.