Tourism Department of Ho Chi Minh City (HCMC) and Suoi Tien Park announced the third Southern Fruit Festival 2006 to take place from May 27 to June 4, 2006 at Suoi Tien Park, HCMC.
According to Mr La Quoc Khanh, deputy director of Tourism Department, it is the annual culture and tourism festival to promote speciality of southern fruit to domestic and foreign visitors.

The festival also aims to set up ecological tourist products which are linked from HCMC, other southeastern to Mekong Delta provinces; diversifying tourist products through the connection of tours between the cities and provinces in the country and Association of Southeast Asian Nation (ASEAN)'s members; as well as welcome the Asia-Pacific Economic Cooperation (APEC) 2006. The number of visitors is expected to be over 1 million.
The festival is an opportunity for localities, garden centers and visitors to meet and exchange ideas about the new seedlings.
Visitors will be attracted by art performances, exciting folk games and varieties of local fruit on display in the festival. Especially, they will contemplate the animal shaped fruit assembling; it is a type of traditional art which is close to the spiritual life of southern people.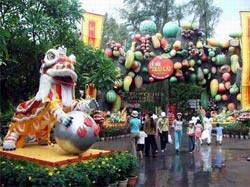 The Southern Fruit Festival 2005
Besides, Vietnamese Cuisine Week will take place at Suoi Tien Park, Van Thanh Park, Binh Quoi Tourist Village, restaurants and hotels in the city on May 30-June 1, 2006.
Suoi Tien Fruit Market will also be organized at Suoi Tien Park, lasting three months of the summer to introduce to tourists new fruits, such as red-inside blue dragon, Ngu Hiep durian, Lo Ren milk fruit and foreign fruits from the US, Thailand, China, Malaysia, etc at a discount of 20-40% in comparison with market prices.