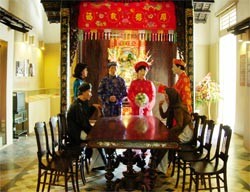 In the old wedding ceremony. (Photo: KK)
The showroom themed "The wedding - Vietnamese typical culture" opened on April 20, 2006, in the Museum of Ho Chi Minh City (65, Ly Tu Trong St., District 1) with more than 200 objects, documents, photos and pictures.
The showroom is rebuilt following the Ruong house's architecture (a typical traditional wooden house of old Vietnamese).
In the showroom, there is ancestral altar located in the central position with dragon and phoenix-shaped Mam Ngu Qua (five-fruit tray), flowers and thurible. The wedding's rites are taken place here.
Besides, the offerings such as betel and wine-tray, wedding coin, flower candles, betel areca salver, boxes of tea-wine, cake and fruit are also displayed.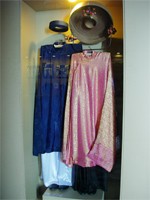 Wedding costume in the late of 19th century. (Photo: KK)
Especially, there are the collectors Truong Ngoc Tuong and Vu Kim Loi's collections of ancient bribe's jewelry and wedding costumes of designer Lien Huong in different centuries.
There are also the items collected by Le Hoan Hung, Truong Ngoc Tuong and Nguyen Thi Tu Anh, such as documents of marriage regulations of the Nguyen Dynasty in 1907, marriage certificates in the late 19th, specimens document of the Nguyen Dynasty about registering marriage and documents of marriage in the South in 1879 written in Chinese.
In additions, the showroom also presents wedding costumes of ethnic minorities of Khmer, Cham and Chinese.