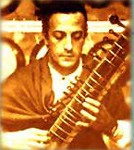 Luis Paniagua
The concert of Spanish artist Luis Paniagua themed The Still Sound of Music will take place at the Ha Noi Opera House on May 24, 2006
.
Luis Paniagua is considered the embodiment of Spanish traditional music. He primarily plays the Spanish traditional musical instruments, such as Mediterranean ancient lyre, Tibetan eight-stringed musical instrument, Chinese lute, percussion instruments combined with electric music.

The Still Sound of Music is based on research of lost aesthetics. It consists of Luis Paniagua's compositional and adapting works with over 4,000 year-old musical instruments.

The music and research is inspired by the civilizations of Egypt, ancient Greece, North Africa, Liberia, related to society in the old days.
The concert will help audiences to understand clearly musical works composed when handwriting did not exist.

Luis Paniagua won the prizes of Comptemporary New Music Album, National Award 2002. He continued to be nominated with his work Bienvenida by The Spanish Academy of Music, Fine Art and Science in 2003.