Dancers and musicians of the Vietnam National Opera & Ballet Theater and Vietnam National Symphony Orchestra (VNSO) will be onstage in a special ballet concert at the Hanoi Opera House on August 20-21.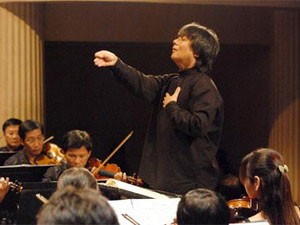 Japanese conductor Honna Tetsuji
The event will be opened with the symphony suite Nhung ky niem que huong (Memories of the homeland) composed by the reputed musician Hoang Duong and performed by VNSO's artists.
Highlights of the show are ballets including the "Firebird" and "The soul and desire" which Igor Stravinsky and Yasushi Akutagawa composed the music.

They will be choreographed by Swedish and Vietnamese choreographers Lars Anderstam and People's Artist Pham Anh Phuong and danced by international and domestic award winners, such as Cao Chi Thanh and Cao Duc Toan.

The show will also present to music and dancing lovers famous classical works performed by well known artists under baton of Japanese conductor Honna Tetsuji, VNSO's artistic director.