Twelve special books about revolutionary war were released in Ho Chi Minh City on April 15 to celebrate the 35th anniversary of the National Reunification Day on April 30 (1975-2010).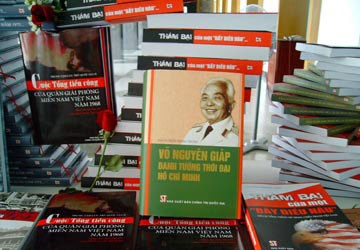 Books are released to mark the 35th anniversary of the national reunification day on April 30.
The Central Department of Propaganda and Training, the Ho Chi Minh City Party Committee, and the National Political Publishing House released the books including three editions of the Great Victory of Spring 1975 and the anti-American Resistance War for National Salvation-historical landmarks.
Other titles include the anti-American Resistance War for National Salvation – effects of international factors; General headquarters of General Vo Nguyen Giap  in the complete victory of Spring 1975; the General Offensive and Uprising in the Mau Than Lunar Year (1968) of the south Vietnam liberation armed forces; History of the Western-Southern resistance; Vo Nguyen Giap – a famous general of the Ho Chi Minh era; History of Con Dao Detention Camp's patriots and revolutionists during the resistance war (1862-1975); Utter defeat of flock of eagles (about the US' Presidents in Vietnam war); a photo book of Ho Chi Minh City's development during 35 years and more.
The books with contributions from researchers, army generals and commanders, and revolutionary veterans took several years to compile.
On the same day, an exhibition titled "Archives from the Paris Agreement to the Ho Chi Minh Campaign" opened at the Reunification Palace.
For the first time more than 100 top secret photos and documents of the Sai Gon Government were displayed to the public.