More than 220 children from Vientiane, Champasak and Attapeu provinces in Laos; Phnom Penh, Battambang, Kampot provinces in Cambodia; and Ho Chi Minh City took park in a cultural exchange festival in Ho Chi Minh City on July 28.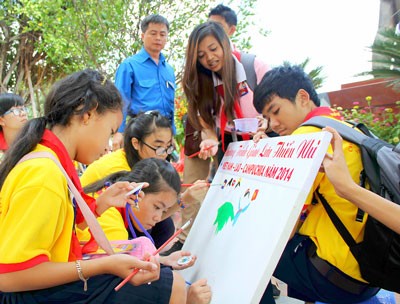 (Photo: SGGP)
Children offered incenses at the statue of President Ho Chi Minh, located in Ho Chi Minh Museum.
During four day- event, children will visit and learn about the historical events at some historical monuments like Ben Duoc Memorial Temple, Rung Sac (Sac Forest), historical museums, traditional trade villages and modern buildings in the city.
The activities aim to strengthen international friendships, solidarity between three neigboring countries. In addition, it is not only to create an useful playground for children on this summer but also introduce the historical, cultural values and development of economy, science and education of Vietnam and Ho Chi Minh City in particular.