More than 1,000 artists performed special items serving domestic and foreign spectators opened the nine day long Hue Festival 2014 after two months of preparation at 8.p.m on April 12.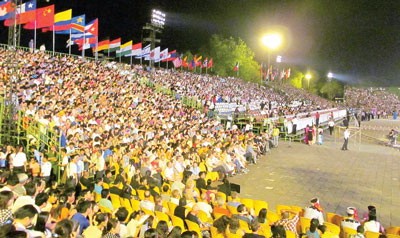 Festival Hue 2014 attracts crowded visitors (Photo: SGGP)
Performances highlighted traditional values of Hue ancient capital and other regions in Vietnam serving tens of thousands of local and foreign visitors.

The opening ceremony of the eighth biennial festival was more impressive with items performed by art troupes from six countries including France, Russia, Australia, Japan, South Korea and China .

Art forms like ca tru, quan ho, Don ca tai tu (southern traditional folk music), and Nha nhac cung dinh Hue (royal court music of Hue), which UNESCO recognizes as intangible cultural heritage of humanity, were also performed at the event.

Hue Festival events have showed outstanding features of Vietnam's diversified culture which is not only stable but also flexible to receive new cultural values suitable with the nation habits and customs, said Deputy Prime Minister Nguyen Xuan Phuc.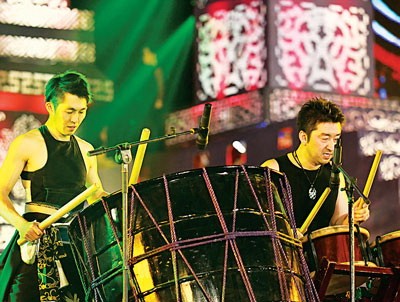 Bati Holic art troupe performs a Japanese traditional art item (Photo: SGGP)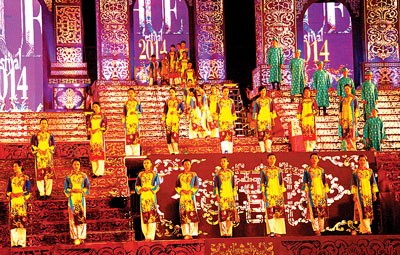 Vietnam que huong toi (Vietnam-my homeland) item starts the opening ceremony (Photo: SGGP)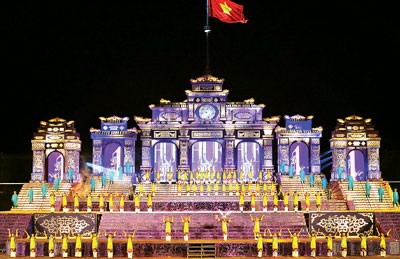 Overview of the Festival Hue 2014 April 12 (Photo: SGGP)