Spring Flower Festival 2012 in Ho Chi Minh City and the spring flower markets will be themed on the Truong Sa Islands with the imitation of its sovereignty landmark made from flowers and fossil shells collected from the archipelago.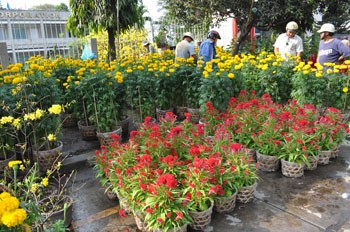 A spring flower market in Go Vap District. (Photo:KK)
The HCMC Park and Green Tree Company announced the theme of the Spring Flower Festival. As scheduled, the HCMC Spring Flower Festival 2012 will be held at the International Square in District 3 and Tao Dan Park in District 1 from January 18 to 28, 2012.
The annual festival will feature around 8,000 exhibits of bonsai trees, ornamental plants, orchids, cacti, apricots and peach blossoms, ornamental birds and fishes, fruit arrangements and rock gardens contributed by hundreds of local and foreign artisans from various flower clubs.

Visitors will have a chance to enjoy other cultural activities as well such as, don ca tai tu performance (southern amateur traditional music), folk games and a painting and calligraphy exhibition.

The annual festival is a traditional, cultural activity in Ho Chi Minh City. It is held during Lunar New Year and attracts thousands of   visitors to the city.

As planned, spring flower markets for Tet will open from January 16-22. The main and large-scale flower markets will open at the 23/9 (September 23rd) Park and Le Van Tam Park in District 1 as well as the Gia Dinh Park in Go Vap District.

37 more flower markets are expected to open in districts across the city, including district 5,6,7,8,10,11 and Go Vap, Tan Phu, Thu Duc, Cu Chi and Binh Tan.

In addition, the annual Phu My Hung spring flower festival will be held in the Phu My Hung Urban Area in District 7 on January 16-21.

The much awaited annual flower display on Nguyen Hue Flower Street titled "Vietnam, my country" during the coming Tet Lunar New Year will open from January 20 until January 26 (December 28 - January 4 on the lunar calendar).

Nguyen Hue Flower Street will be decorated with small scene displays of the Vietnamese countryside, such as lakes, fields, the peaceful villages, the beautiful seashores and the houses on Spratly Islands.