The drama "Sorry, I'm only a harlot," based on the novel by Chinese writer Tao Ding, debuted to mixed, though mostly positive reviews at the Hoa Binh Theater in Ho Chi Minh City on April 3.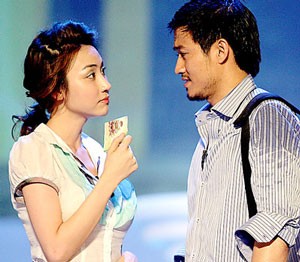 Actress Ngan Khanh who plays Ha Au and actor Quy Binh who plays her lover Ha Niem Ban, perform in a production of "Sorry, I'm only a harlot" at the Hoa Binh Theater in Ho Chi Minh City
The play tells the tragic tale of a 16-year-old girl named Ha Au and her mother Boi Ngoc who are the sex slaves of a brutal, rich man. In order to save her own life, the young girl stabs the man to death in the final act.
Audiences applauded actress Ngan Khanh for her portrayal of the naïve Ha Au in the first part of the play, but said she failed overall to convey the deep pain and anguish of the girl.
However, viewers commended actress Lan Phuong who plays Ha Au in the latter part of the drama, saying her performance was emotionally stirring.
Audiences also heaped praise on young actor Quy Binh, who plays the part of Ha Niem Ban – Ha Au's lover; Tu Trinh who plays the girl's mother; and Thanh Hoang who plays the man keeping the women as sex slaves.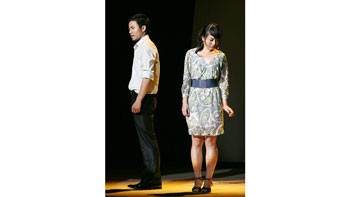 Actress Lan Phuong and actor Quy Binh perform onstage
The stage set also received mainly positive feedback for its imposing beauty, but some thought it was over the top and distracted viewers from the raw emotions being portrayed onstage.
The play's three-hour running time, meanwhile, was criticized for being too long and many complained that the sound system was not up to par.
The play attracted many industry insiders, who were eager to see the performance being hailed as a groundbreaking drama with investment of more than VND5 billion (US$250,000) – a long-term investment of the local V.Art Company.
After playing in HCMC on April 3, 4, 9, 10 and 11, the drama will be performed in Hanoi and Da Nang before heading to the US.
Following its initial tour, the production will show regularly at the 5B Theater in HCMC.

Related article:
Local company to turn Chinese bestseller into stage drama