Two dozen medals and trophies won in the international sporting arena are being auctioned online this week to benefit a hundred children who were born with facial deformities.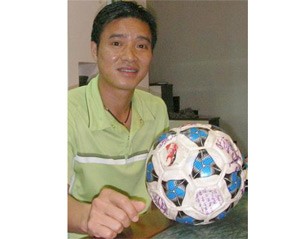 Former football star Hong Son and his gift for charity
Already some 2,000 people have lodged bids for the sports awards at www.chodientu.vn. Ms. Nguyen Huyen Thuong, one of the auction's organizers, is confident of raising around US$15,000 by the time the bidding concludes on Saturday.
"At the outset, all we intended to do was buy a shirt or a ball and then ask some sport stars to sign it. Imagine our surprise when we received 24 precious trophies from them. Their support has really given impetus to the charity auction," Huong said.
One of the benefactors is Truong Minh Sang, a gold medal winner at the 2005 Southeast Asian Games. "Although I had to work ultra hard to win the medal, I'm happy to donate it for such a worthwhile cause. I want to help disadvantaged children," Sang said.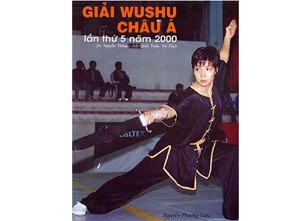 World wushu champion Nguyen Phuong Lan presents her sword
Another is the former football midfielder Nguyen Hong Son, who offered a ball signed by some of the country's top footballers. "I treasure that ball very much, but I am giving it up for the sake of the children," he told Ms. Thuong before handing over his precious souvenir.
Other items up for auction are the sword of the 1999 world wushu champion Nguyen Phuong Lan, a chess set belonging to top chess player Dao Thien Hai, Nguyen Ngoc Truong Son's silver medal from the Asian You-10 Chess Championships, and a sepaktakraw ball inscribed with the signatures of the 2006 Asian Games women's sepaktakraw champions.