Young people who have a passion for music will have a chance to shine as a star on Viet Nam Idol 2008, the early rounds of which begin next month.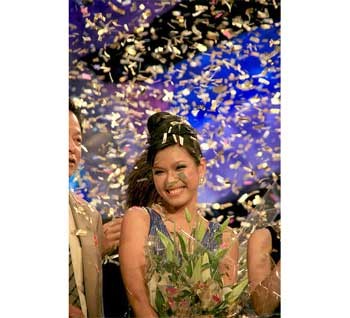 Singer Phuong Vy, Vietnameses Idol 2007.
Audition rounds will begin June 26 in Can Tho, and will be held later in Ha Noi, Da Nang and Ho Chi Minh City.
The judges will be the singer Siu Black, saxophonist Tran Manh Tuan and musician Ho Hoai Anh. They will whittle the top 100 contestants down to 20 for the studio round, held September 3 to October 3. Ten will participate in the gala round held between October 15 and December 5. Finally, one will emerge as the winner in the climax on December 17.
The first show will be broadcast on HTV 7 channel and channels in provinces and cities including Khanh Hoa, Quang Ninh, Can Tho, Hue, Hai Phong, Da Nang on August 6.
Viewers will be able to vote by text message or by phone call to decide who goes on to the next level, who must leave, and who will be this year's winner.
The first winner will receive US$5,000 and a recording contract with Music Face, a label owned by the musician Duc Tri.
The music competition is held by the Ho Chi Minh City Television for young people between 16 and 30 years of age. Contestants can register and get further information at www.vietnamidol.com .
The 2007 Vietnamese version of the show American Idol attracted more than 6,000 contestants and won the Show of the Year prize of the 2008 and the Devotion (Cong Hien) Award last year.