An old stone bridge in Tra Linh district of the northern province of Cao Bang was built during the reign of King Le Canh Hung in the 18th century, according to researchers from the Viet Nam Archaeology Institute and the provincial museum.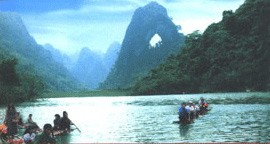 Thang Hen lake in Tra Linh District
The vaulted bridge, 4.75m long and 2.46m wide, is intact and still satisfies the daily transport needs of the region's people.
Ten meters away from the bridge is a stone stele that was erected in 1831. According to the short scripts on the stone stele, the bridge was built around the time of King Le Canh Hung (1740-1786) and was then repaired during the reign of King Minh Mang.