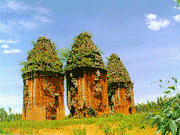 Duong Long Towers
After excavating an area of 1,500 square meters around Duong Long Cluster of Towers in Binh Dinh Province, archaeologists found a system of stone foots of the towers.
This system, including dozens of stones in square sharp which are 64 centimeters thick, makes the towers solid and sizeable. Especially, beautiful lotus flowers are carved at the foot of the central tower. 
Unfortunately, many stones were damaged by locals, so the foot does not remain intact. Archaeologists of the Binh Dinh Museum believed that there is a brick layer under the stone foot, so they will dig one more meter deep into the ground.
The Duong Long cluster in Tay Son District, which has been considered the highest brick towers in Southeast Asia, consists of 3 towers. The middle is 39 meters in height; the two others are 36 meters. As the result of this excavation, the height of the towers can be more.