The Bia Thi Hoc (stele that celebrates studying), which stands in front of the Quoc Tu Giam (Royal College) for sons of the state under the Nguyen dynasty, was unveiled on June 16 following a full restoration.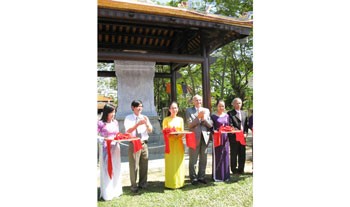 The inauguration ceremony of the restoration of the Bia Thi Hoc is held in Hue on June 1  (Photo: Thanh Nien)
The stele was inscribed with King Tu Duc's (1829-83) article and four poems that celebrate and encourage studying and ask students to work hard, with a view toward becoming virtuous, knowledgeable people not tempted by fame and fortune.
The monument represents the great historical, cultural and artistic value of the country's last dynasty, and is integral to the citadel complex, which was named as a World Cultural Heritage site by UNESCO.
The stele was restored as part of a Polish scheme for international aid last year, with a total investment of 600 million VND (29,000 USD), of which the Polish Embassy donated 18,700 USD.
The money was spent on strengthening the stone stele and erecting a roof to shelter it from weather.
Phung Phu, director of Hue 's Monuments Conservation Centre (MCC), praised the cooperation between Vietnam and Poland in restoring and conserving cultural heritage sites in Hue . The working relationship dates back to 1983 following UNESCO's appeal for international assistance to conserve Hue 's royal monuments.
"The stele project marks the return of Polish experts to conservation work of cultural heritage sites in Hue and the country as a whole," he said at the inauguration ceremony.
Polish ambassador Roman Iwaszkiewicz and director Phu also signed a deal to restore Linh Tinh Mon, one of the main gates of the Royal College , at the ceremony.
The Polish Embassy will contribute 25,500 USD toward the total investment of 86,600 USD needed to restore the gate. The project is expected to start in July and is set for completion by the end of the year.
The project aims to restore the delicate decoration of the gates, conserve the remainder of the monuments and transfer Polish techniques to local conservationist workers.
Linh Tinh Gate stands at the bank of the Perfume River and opens a path leading to Van Thanh Gate, the main gate of the Royal College . It symbolises Vietnamese appreciation of studying and students.
Once completed, the gate will become a landmark monument decorating the bank of the Perfume River . It also marks a step further into full restoration of the entire Royal College .
Noted for its advanced conservationist science, Poland in the 1980s and 1990s assisted Vietnam in major restoration projects.