The 2nd Street Book Festival themed "Tradition-Present-Future" celebrating the Tet holiday season will open in Ho Chi Minh City from January 20 to 26, 2012.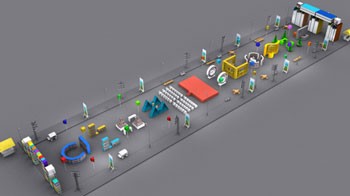 Design of a section in the 2nd Street Book Festival 2012. (Photo: Organization board)
The book festival will be held along the main city streets namely, Mac Thi Buoi, Nguyen Hue and Ngo Duc Ke in District 1.
Publishing houses Tre, General, Culture and Arts and book distributors such as Fahasa, Phuong Nam, and museums and libraries in the city will all participate in the festival.

Launched for the first time during the last Tet holiday season, the 2nd Street Book Festival aims to promote reading and increase knowledge of culture, traditions and highlights of the city.

The "Tradition" section on Mac Thi Buoi Street will present to readers historical and cultural books as well as rare ancient and valuable documents on Vietnam's sovereignty over the Hoang Sa and Truong Sa archipelago islands.

The "Present" section on Nguyen Hue Street will highlight the achievements, changes and varied images of HCMC in various fields; portraits of well-known scientists and businessmen; and the concept of e-books.

The "Future" section on Ngo Duc Ke Street will be an area for children, in which there will be an abundance of children's books and entertainment activities.