Who mixes the best cocktails in the south and who makes them with unmatched panache?
Well, if the results of the 2006 Saigontourist Bartender competition are anything to go by, it's Ms. Vu Thuy Ngoc of the Continental Hotel in the former case and Mr. Nguyen Phuong Dong of the Ride Saloon in the latter.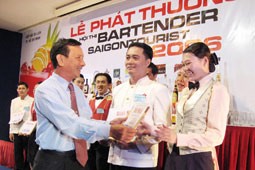 Director-general of Saigontourist Nguyen Huu Tho (L) awards certificate of merit to bartender Vu Thuy Ngoc (R)
For their efforts in the final fortnight of September, Ngoc and Thuy each won a holiday valued at VND8 million and a trophy from Saigontourist.
The Best Uniform prize and a tour worth VND4 million went to Ms. Ho Thi Hoang Chau of the Yasaka Saigon Nha Trang Hotel, while Mr. Nguyen Van Hao of the Rex Hotel won a VND2-million tour for coming up with the most creative cocktail with a Vietnamese flavor.
Sixty three bartenders from Ho Chi Minh City and beyond entered this year's competition, which was organized by Saigontourist, the Ho Chi Minh City Tourism Association and the Saigon Bartenders Club.
The organizers are planning to expand the contest nationwide and make it an annual event to foster professionalism and camaraderie among Viet Nam's bartenders.