Children carrying lanterns were seen everywhere in District 12's Thanh Loc Tourist Park on the outskirts of Ho Chi Minh City on Friday night, the full moon night of the eight lunar month.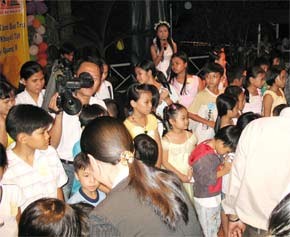 A Ho Chi Minh City Television cameraman shoots the children's games for broadcasting (Photo: Tuong Thuy)
About 1,000 children, together with their parents, from Thanh Loc and Thanh Xuan wards in the district attended the Mid-Autumn Festival night held by local officials and sponsors at the tourist park along the Saigon River.
The river reflected the silver moonlight to the kids, who came to enjoy the event and got presents from the sponsors, including the park's management.
A local official read President Nguyen Minh Triet's letter to children nationwide and Vietnamese kids overseas, wishing them good health, good jobs at school and home.
The presents for the participating children were Mid-Autumn lanterns, candles and moon cakes. They joined various joyful games and watched a music show, performed by local kids.
Besides kids from Thanh Loc and Thanh Xuan wards, disabled children from charity houses in other districts were also invited to the event. Especially, three blind teenagers who had earned medals in the National Sports Games for the Disabled in Ho Chi Minh City late September were invited to the stage to talk about their dreams.
The special guests were Nguyen Thi Ut Bich, who took a gold in shot-put at the Games, and Le Van Truong and Le Tan Hung, who obtained silvers in track and field.
They said winning medals at the National Sports Games was a great honor for them, and wished happiness for all the children as well as all people present at the event.