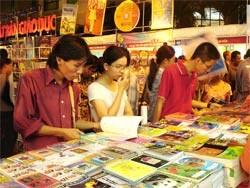 Hundreds of readers came to the festival on the last day.(Photo: VH)
Over 400,000 turns of visitors came to the City Hall between the March 20 and 26, with almost 45,000 on the opening day alone.

More than 800,000 books were sold out in these festive days, which means that more than 10,000 books are selected per day.
This figure shows the potential and vitality of reading culture of Ho Chi Minh City residents.
It also demonstrates the latest data obtained by an international market researcher that Ho Chi Minh City consumes 60 to 70 per cent of the national editions.
Proceeds of the festival, up to VND10 billion within 7 days, can surprise the organizers. Foreign language editions topped at VND1.5 billion in takings, while native language books of Fahasa (Ho Chi Minh City Book Distribution Joint-Stock Company) reached to VND1 billion.
It has been an extraordinary week at the Book Festival with ever-increasing numbers of people flocking in for thought-provoking and memorable sessions.
Reader could meet with a national array of writers, from the energetic and joyous wit of ethnic minority poet Inrasara, who won the 2005 ASEAN prize for literature, to the sharp insight of Dr. Do Hong Ngoc, writer of many health books for women and children.
Many books were complete sellouts, including "Canh dong bat tan" of best-selling female writer Nguyen Ngoc Tu sold out on the fourth day. Up to 36,000 editions of "The Chronicles of Narnia Series", Seven Volume Boxed Set, were sold out within seven days.
This year's festival was the fastest selling ever with more books selling out than in previous festival.
The fourth HCMC Book Festival is said to be a golden chance for book lovers as thousands of books were on big sale. Most bookstores and publishers offered a discount of at least 10 per cent on literary works.
The price of original English Dictionary published by McMillan was even down to VND124,000, cheaper than those domestically published.
In fact, the current space for around 200 stalls is not enough for the fifth HCMC Book Festival in 2008.
Organizers are thinking of a larger location for the expected 500 stands of book companies from the North to the South of Viet Nam, a more professional team to host the festival and better activities of advertising and promotion.
Facts and Figures of 2006 HCMC Book Festival

VND10 billion: the proceeds of books in less than 10 days.

10 million: printed matters presented at the festival.

800,000: the number of books sold-out within 7 days.

400,000: the estimated visitors at the event.

100,000: book titles on display.

45,000: festival-goers on the opening day.

200: stalls put up in the City Hall.

110: a total number of publishers, book distributors and bookstores attended at the event.