As many as 170 outstanding young overseas Vietnamese from across the world are enthusiastically attending a summer camp highlighting the nation's sea and island sovereignty as well as cultural and historical values.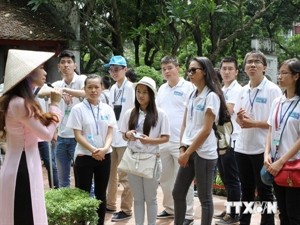 Young overseas Vietnamese at the Temple of Literature (Photo: VNA)
Organised by the State Committee for Overseas Vietnamese Affairs (COVA) since 2003, the annual event creates an opportunity for young expatriates to enhance solidarity and exchanges with fellows at home, said Vice Chairman Dang The Hung.
Participants embarked on a cross-country tour from July 8, during which they will participate in a string of activities such as visiting President Ho Chi Minh Mausoleum, meeting with fishermen, and enjoying special art performances on seas and islands.
"On the first day we had nice experience with a presenter who spoke in the dialects of Vietnam's three different regions. This helps us understand more about the Vietnamese language", said 16-year-old Le Thi Ngoc Yen from Poland.
Meanwhile, this is the fifth time 18-year-old Tran Duy An from Hungary has returned to Vietnam. He said the Vietnamese community in Hungary are all thinking of the homeland, especially after China illegally placed its oil rig in Vietnam's waters in early May.
According to An, the community frequently organise cultural activities and Vietnamese classes for children in an effort to preserve the traditions and mother tongue.
Vu Long Van from Ohio, the US, said the summer camp gives overseas Vietnamese youth like him a good chance to learn more about the culture and the life in their homeland.