An anniversary celebration commemorating the nation's founders - the Hung Kings will be held at Suoi Tien Cultural Tourism Park in Ho Chi Minh City's District 9 on April 28 or the 10th day of the third lunar month known as the national commemorative day.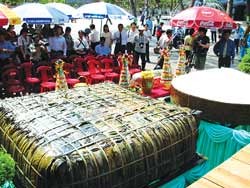 A giant Banh chung (square glutinous rice cake) is displaying in a festival. (Photo: Sggp)
The festival will feature a series of cultural activities, such as offering 4,000 Banh chung (square glutinous rice cake) and banh day (round glutinous rice cake) to the national ancestors; a palanquin parade reviving folk legends including Son Tinh - Thuy Tinh (the God of the Mountain and the God of the Water), AU Co- Lac Long Quan, Mai An Tiem and Lang Lieu.
More than 2,000 Vietnamese artists from 30 art troupes will join the event.