Supermodel Vietnam 2010 Ngoc Thach will compete at the Miss Model of The World 2010, which takes place in China from October 31st to November 25th.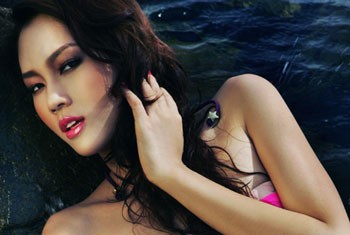 Supermodel Ngoc Thach
The 1.75 meters tall, 19 year old model from the Mekong Delta Province of Hau Giang won the Golden Prize at the Supermodel Vietnam Contest 2010.

She has taken part in various fashion shows in the country with an impressive performing style.

Fashion designer Hoang Hai will prepare her evening gowns, meanwhile Ao dai ABC will create traditional dresses for her to wear at the pageant

Model Nguyen Ngoc Lan Huong was named the fourth runner-up in the Miss Model of The World 2009 beauty contest held in China from November 9-29.
Huong also won two other titles including "Miss Model of Best in Evening Gown" and "Top 10 Media Poll."

The Miss Model of the World contest was founded in 1988 by Çevik Suha Alpayli of turkey and has gone on to become the world's premier modeling contest.

The pageant has attracted more than 10,000 professional models from 70 countries over the past 20 years.
This year's Miss Model of the World draws more than 60 contestants from throughout the world